Sanocynforte products contain the preservative hypochlorous acid to protect against microbial contamination of the products.
HOCL is a natural defense substance the body's own immune system uses to effectively defend itself against bacteria, spores, viruses and fungi. Sanocynforte is efficient without damaging healthy tissue.
Sanocynforte is developed with Veterinarians and guarantees therefore best quality and control. 
PAINLESS APPLICATION
100%
FREE FROM ANTIBIOTICS
100%
WITHOUT ALCOHOL, COLORANTS AND FRAGRANCES
100%
VERY WELL TOLERATED BY THE SKIN
100%
HARMLESS WHEN TAKEN ORALLY
100%
NO KNOWN RESISTANCES OR CONTRAINDICATIONS
100%
Fighting pathogens efficiently
The preservative HOCL contained in Sanocynforte flushes around unicellular microorganisms, attacks their cell wall and increases their permeability.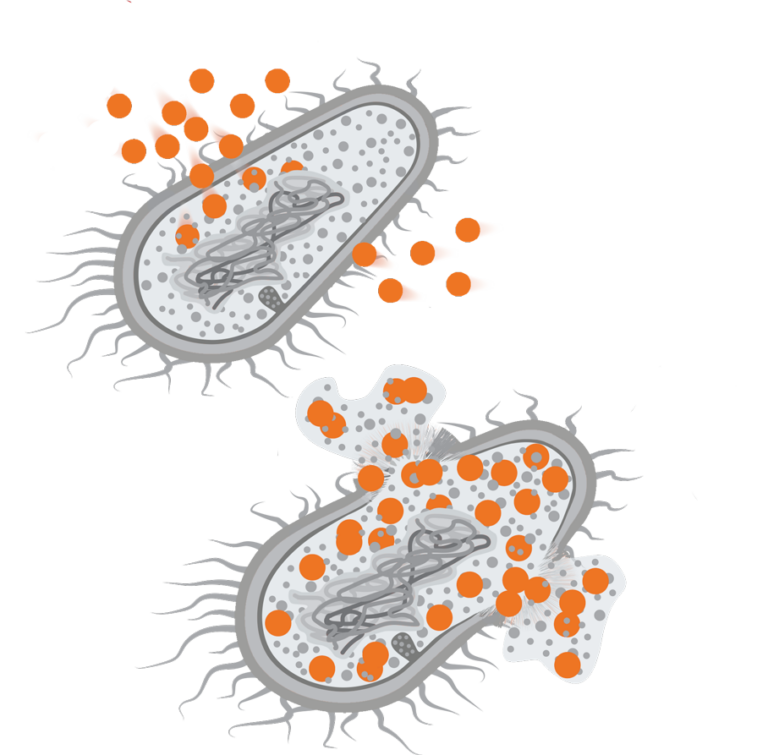 SANOCYN BIDIRECTION SYSTEM
Sanocynforte solution and Sanocynforte hydrogel have been designed as an integrated system for cleaning, rinsing and caring for injured skin. Extensive rinsing with Sanocynforte solution provides optimal cleansing of the affected areas.
Sanocynforte Hydrogel adheres excellently, unfolds its effect over a longer period of time and in this way supports natural regeneration. Best results are achieved by the combined use of both products.
Sanocynforte solution is the remedy of choice for bacterial or fungal hoof problems, cuts, skin irritations, skin injuries, insect bites, hotspots and tick bites. Also it can be used for udder and teat hygiene purposes. 
Generous irrigation is used to physically cleanse the affected areas. Afterwards, the application of Sanocynforte Hydrogel is recommended. This lowers the germ load on the affected area and thus, with regular use, minimizes the possibility of infection.